I've been honored with a Kick Ass Blogger Award ...
I think this is the bloggy version of 'tag, you're it!'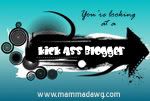 It is my duty, as the recipient of the Kick Ass Blogger Award, to anoint five lucky winners.
Jocullum
- an erudite and original voice of diffident passion, sometimes art-related.
John Sugg
- farewells to print journalism on the CJR website.
Paul
- at
learning to see
in the UK, started with the goal of reclaiming his artist's soul one painstaking exercise at a time. I followed him for a couple of years, and missed him when the site went quiet. He's back.
Stephanie
- aka yarn harlot. The title speaks for itself. It's all about chicks with sticks.
Emily
- a bold young voice of art, and a creative geyser.
I'd like to thank the academy, that is
Nancie,
for bestowing this honor upon my blog and then patiently explaining to me via email how to embed links, knowledge I was shamefully lacking.
Okay, it's your turn. Awards come with responsibilities. First, you have to read the instructions and follow the committee rules. Then choose some of your favorite bloggers to pass the award on to.